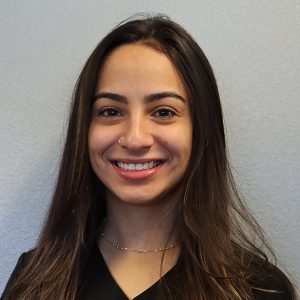 Aliante Animal Hospital has its first D.V.M. extern! Please give a warm welcome to Adriana!
Adriana is a fourth-year veterinary medical student from Ross University and will graduate in September 2021. She is from San Juan, Puerto Rico, and has always had a life-long love for animals. Adriana said ever since she was about 4-years-old, she always wanted to become a veterinarian; she never considered having a Plan B because animal medicine was her ultimate dream.
"I've always loved animals, but when I grew up, I understood the commitment – the mission – to help care for animals," Adriana said. She said she also wants to help educate pet owners on how to properly take care of their pets and treat animals with respect.
Adriana attended the University of Puerto Rico at Río Piedras, the main campus in San Juan, to fulfill Ross University's requirements for their veterinary program. Adriana said she's most interested in shelter and preventative medicine. She said her plan is to become a mobile veterinarian in Puerto Rico and to create videos on social media to help educate pet owners about animal medicine.
Some of Adriana's volunteer experience includes working with Save A Cat campaigns with Petsmart locations. She also volunteered at different shelters when she visited her parents on different parts of the island. Adriana heard about the externship program from her significant other, who was an old roommate of Dr. Vassallo's. Dr. Vassallo and his fiancee, Dr. Taylor Parker from Lone Mountain Animal Hospital (who is also a Ross alumn), reached out to Adriana about the program and encouraged her to apply.
Now that she's here for her externship, Adriana said she's most looking forward to learning more about how to read diagnostic imaging, like ultrasound since that kind of service isn't readily available in Puerto Rico. Adriana said she's also looking forward to learning how to perform surgeries quickly and more efficiently.
In her spare time, Adriana enjoys reading, creating videos for social media, taking her dog to the beach, and learning more about veterinary medicine. Adriana has two dogs; one is an island dog that she rescued from St. Kitts named Ancy and the other is a mixed breed that she grew up with named Lia.
Welcome to the team, Adriana!