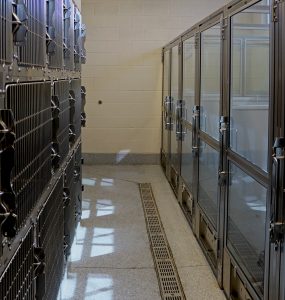 Aliante Animal Hospital's boarding facility was specifically designed with your pet's every comfort in mind and we are proud to offer first-class accommodations to furry guests. Your pet's health and comfort are our top priorities. All of our rooms are climate-controlled and remain at a very comfortable temperature. Our luxury rooms include complimentary beds and 3 exterior walks per day.
Animals are always anxious to some degree when they are away from home and their normal routine is altered. Our goal is to minimize that stress with attention, kindness, exercise, and treats! Each guest is cared for by a compassionate, well-trained, and experienced staff. If needed, veterinarians are in the building 12 hours a day and are on call when they're not.
We require all boarders to be current on their vaccinations from a board-certified veterinarian and free of parasites to ensure the health and safety of all animals. A negative fecal sample in the last 6 months is required for all animals boarding with us. For our canine guests, all dogs must be current on the following vaccines: Bordetella, Distemper, Parvovirus, Canine Influenza, and Rabies. All cats must be current on Feline Distemper (FVRCP), and Rabies.
Here's a closer look at the different boarding options at Aliante Animal Hospital: