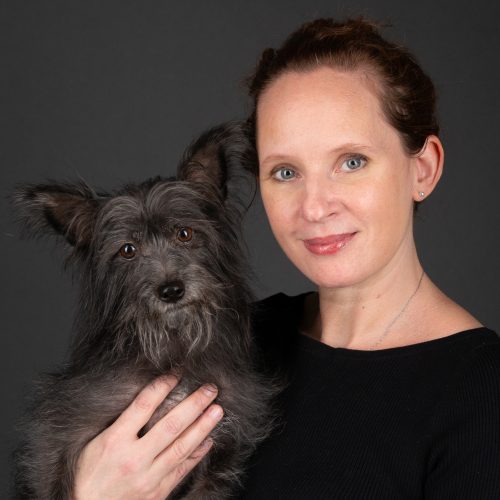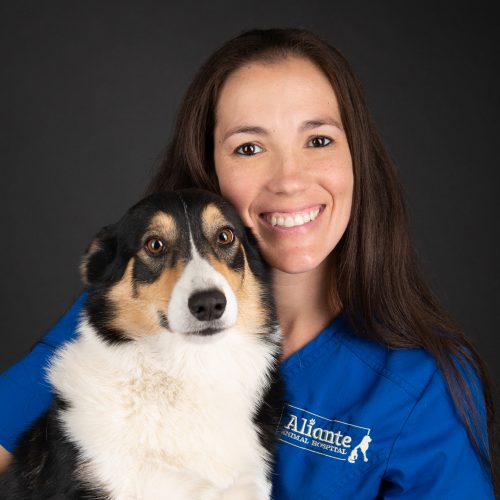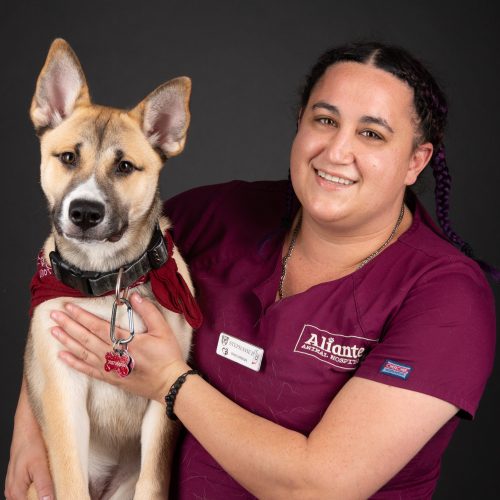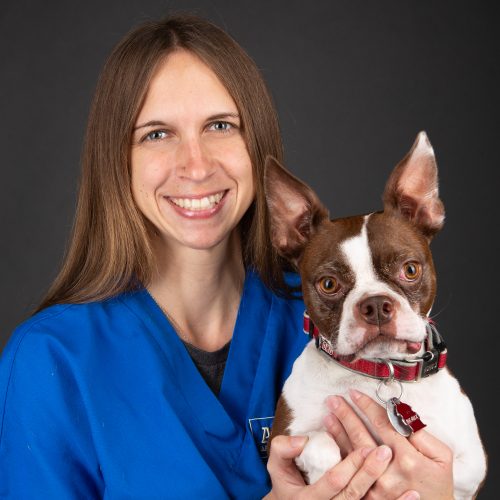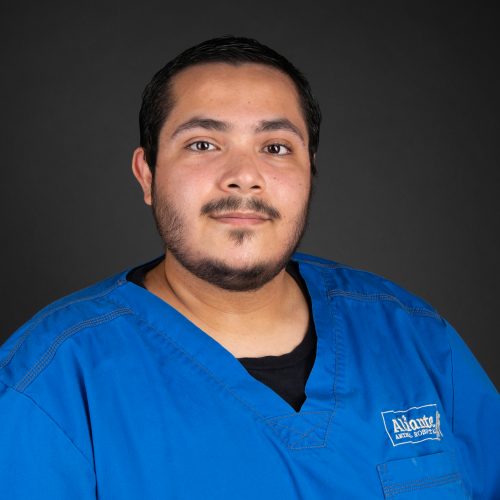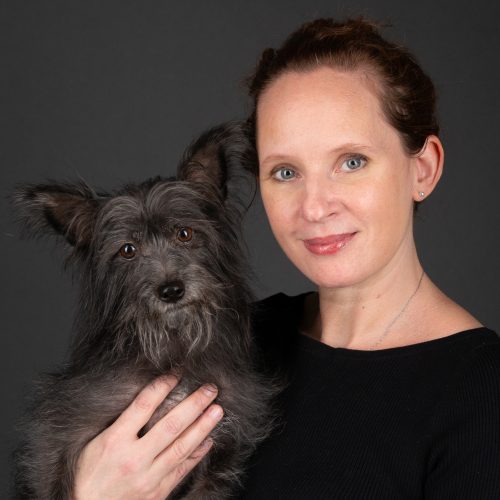 Office Manager
Tandi
Tandi was born in Cape Town, South Africa, but grew up sailing around the world with her parents. Tandi's parents owned a boat building factory in South Africa and were avid sailors themselves. When she was a little girl, Tandi's parents sold the company to circumnavigate the world for about 10 years. When she was 17, Tandi decided to go into the animal medicine field.
Tandi was a licensed veterinary technician in Atlanta, Georgia for about 15 years; she also worked as a veterinary technician for a couple of years in Las Vegas before joining the team at Aliante Animal Hospital as the office manager. Tandi said she enjoys being part of the Aliante team as she can keep up with her technician skills while helping clients with their pets. She originally wanted to become a veterinarian, but after getting married and having a few kids, Tandi settled on her career as a veterinary technician. She also worked as a flight attendant for a private charter company.
In her spare time, Tandi crochets and spends time with her kids, whether it's hiking, going to the movies, or spending an evening at home. Tandi said she still enjoys sailing when the opportunity comes up. She's the proud owner of three dogs, two cats, and a few fish.
Tandi said she's working on becoming a certified veterinary practice manager.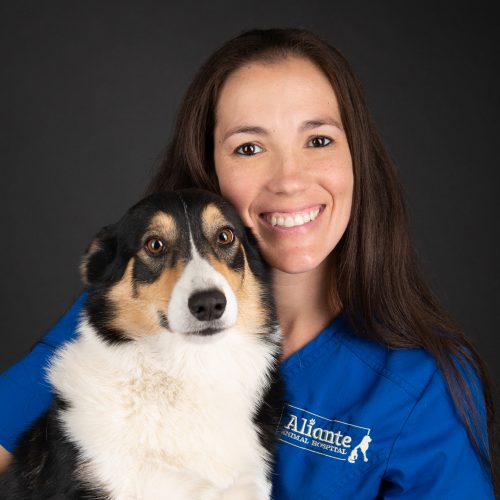 Supervising Licensed Veterinary Technician
Beverly
Beverly is originally from Anchorage, Alaska, and has lived in the Las Vegas area since she was 4-years-old. She said she knew she wanted to work with animals since she was a little girl. Beverly learned about veterinary medicine while visiting a dog park, eventually going to school to become a veterinary technician.
She said she chose to become a veterinary technician because of how involved the position is in the field. Beverly has worked at several other animal hospitals in Las Vegas before joining the team at Aliante Animal Hospital. In her spare time, she said she enjoys spending time with her friends and hiking. She also breeds Corgis.
For the moment, Beverly is very happy being a licensed veterinary technician. She has six dogs (three Corgis, a Blue Heeler, and a Lab-Shepard) and three black cats.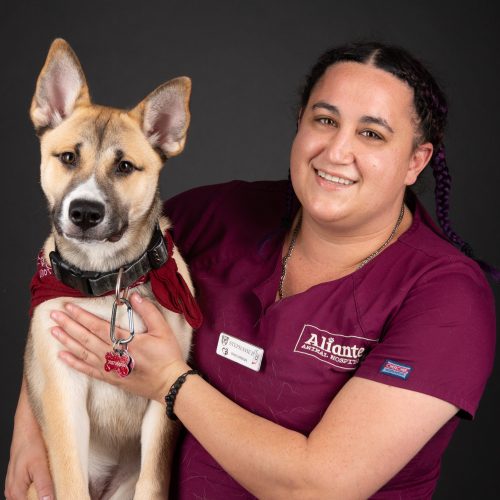 Kennel Supervisor
Stephanie
Stephanie was born and raised in California moved to Las Vegas in 2010.
She is considering going back to school to become a veterinarian or a licensed veterinarian tech; she's always been told that she has a great connection with scared, timid, or even nervous dogs. Stephanie has a large compassion for animals and wants to help as many as she can.
Stephanie is the proud owner of two dogs, a Pitbull named Keelo and a Husky/Belgium Malinois mix named Tater Tot. She also has a lizard named Lenny. As a huge sports fan, Stephanie roots for the Pittsburgh Steelers football team and the Vegas Golden Knights hockey team.
Outside of work, Stephanie enjoys riding horses, painting, playing video games, and enjoying nature.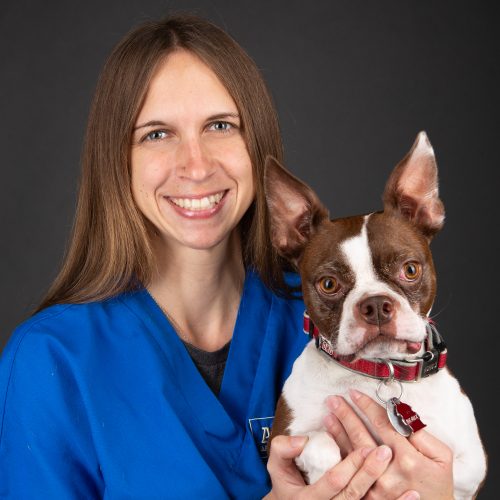 Licensed Veterinary Technician
Stephanie
Stephanie is from Charleston, South Carolina, and moved out to the Las Vegas area with her husband when he was offered a job as a paramedic. While still living in South Carolina, Stephanie worked in emergencies as a licensed veterinary technician; she's been a member of the Aliante Animal Hospital team for a little more than two years.
In her spare time, Stephanie enjoys spending time outdoors, especially hiking. She has five cats and one Boston terrier. Stephanie said she wants to enhance her technician skills and continue working at Aliante. Stephanie said the best part of her job is being able to help animals in any way she can.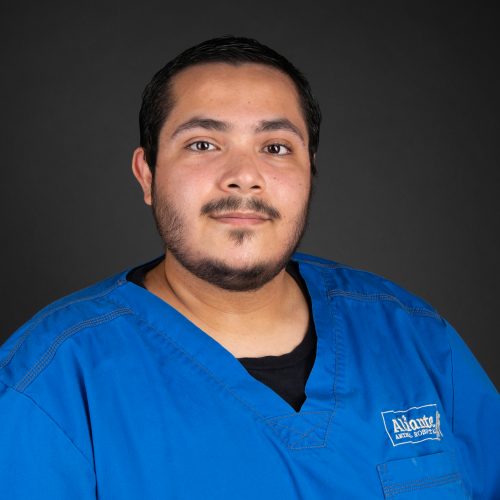 Veterinarian Technician in Training
Gabriel
Gabriel was born in Los Angeles and moved out to the Las Vegas area when he was 5-years-old. He decided to become a veterinary technician after he graduated high school. Gabriel said he was told he couldn't do it, since "playing with animals was considered a hobby," but he decided to take that as a challenge and ended up finding out about vet assistant and vet technician jobs.
While working as a veterinary assistant, Gabriel said he saw how vet technicians worked and decided to become a technician himself. A veterinarian Gabriel used to work with at Animal Kindness Veterinary Hospital convinced him to become a veterinary technician. Since November 2019, Gabriel has been a member of the Aliante Animal Hospital team.
In his spare time, Gabriel said he enjoys playing video games, watching television, and online window shopping. He's the proud owner of a 1-year-old Chihuahua named Zelda, and a senior Puggle named Leela.
Gabriel is working towards becoming a licensed veterinary technician by Fall 2020.