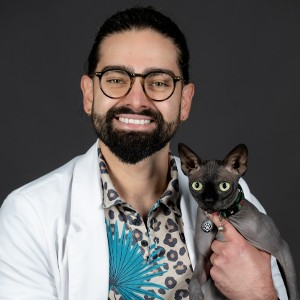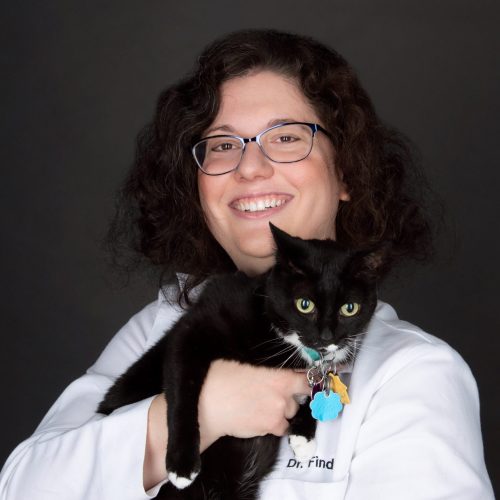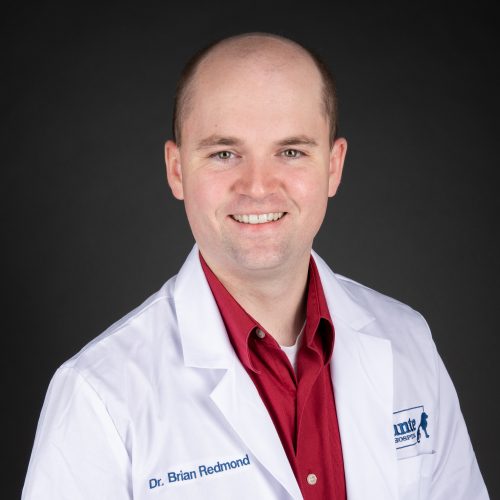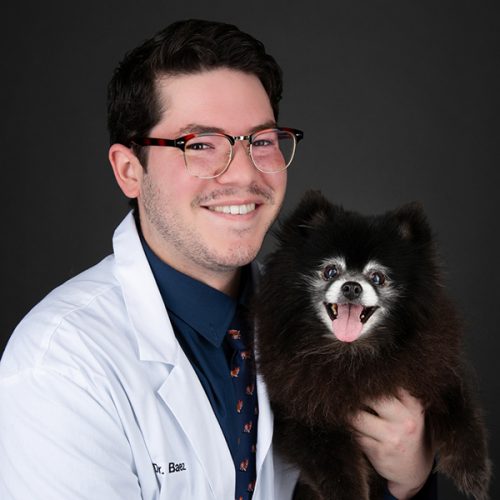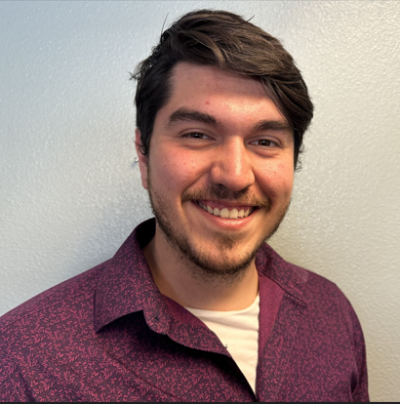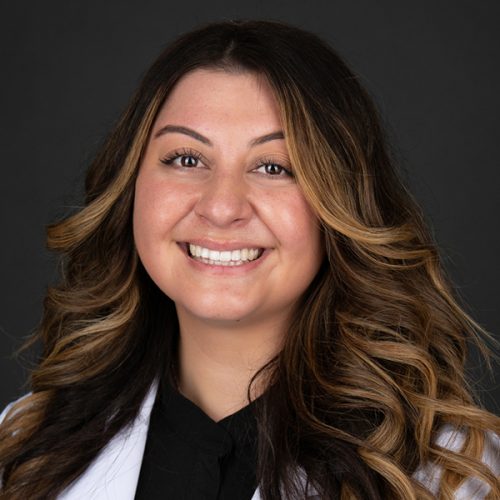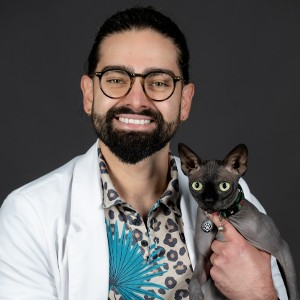 Medical Director, Veterinarian
Efrain Vassallo, D.V.M.
Dr. Efrain Vassallo was born and raised in Ponce, Puerto Rico, and is fluent in Spanish and English. He knew from a young age he wanted to become a veterinarian. Dr. Vassallo said the movie "Jurassic Park" was what first interested him in animals and science.
"I was amazed by the biology and science, so for the longest time I wanted to be a paleontologist," Dr. Vassallo said. "But then I realized all those animals were dead, so I switched goals after that."
Dr. Vassallo started his education at the University of Puerto Rico-Mayagüez as a pre-Vet student before graduating from Lousiana State University in 2016 with a Doctorate of Veterinary Medicine. During his time at university, Dr. Vassallo worked with an orthopedic surgeon in Puerto Rico, and at private practices in Las Vegas and Texas. Most of his externships were small animals, but he has some experience with farm animals.
"I really like interacting with clients and pet owners, so that's why I prefer small animals," Dr. Vassallo said.
During his externship in Las Vegas, Dr. Vassallo saw that there were better opportunities to learn more about animal medicine and decided to relocate to Nevada. He is interested in surgery, internal medicine, and working with "misunderstood patients."
In his spare time, Dr. Vassallo enjoys exploring the Las Vegas area, trying different types of food, reading, working out, and traveling to places like Zion National Park and Phoenix. He and his wife have a Greyhound named Callie, a three-legged cat named Squanchy, a Pitbull-mix named Groot, and a senior cat named Hagrid.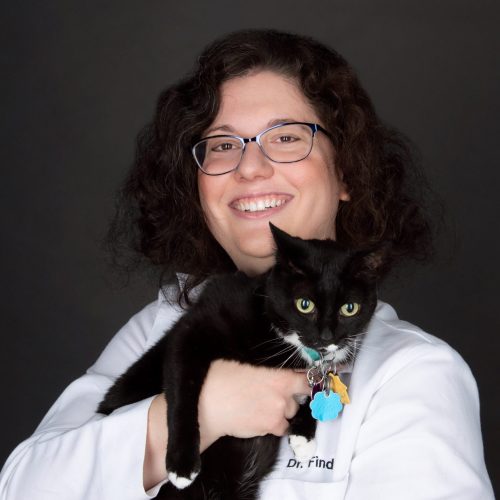 Veterinarian
Jennifer Finder, D.V.M.
Dr. Finder grew up in Maryland outside of Washington D.C. She attended the University of Maryland College Park where she received a bachelor's degree in animal and avian science. Dr. Finder received her doctorate in veterinary medicine from Virginia-Maryland Regional College of Veterinary Medicine. Before graduating from vet school she worked in small animal practices in Nevada and in Maryland. Before vet school she also worked in a wildlife rehabilitation facility, where she cared for an array of animals including squirrels, snapping turtles, fawns, and all types of birds.
Dr. Finder is interested in most areas of general practice and surgery. In her spare time, Dr. Finder enjoys playing with her kids and cooking. She has visited several countries including Canada, Mexico, Israel, Spain, Costa Rica and India. She has had two opportunities to study abroad, in Costa Rica and India. Her adventurous spirit took her through a suspension bridge in Costa Rica, while studying sustainable ecosystems there, where she remembers the bridge cable snapping while she crossed it! In India she worked with wild and domestic animals, where she gained a great deal of experience in infectious diseases and the importance of vaccination. The highlight of this experience was working with Indian elephants, which she fondly remembers as "Mostly playing with baby elephants."
Dr. Finder has been a member of our staff since 2012. When she is not dedicating herself to her patients she is caring for her family, including her mischievous cat, which she adopted after becoming her foster pet. She has a very sweet tuxedo colored cat named Jane of the Jungle whom she describes as very "inquisitive, and gets into everything! – but HATES the vet!"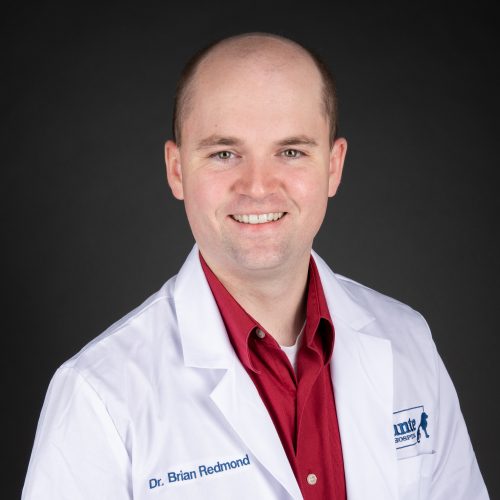 Veterinarian
Brian Redmond, D.V.M.
Growing up near Boise, Idaho, Dr. Brian Redmond, and his dogs would watch countless hours of Animal Planet and be enamored by wildlife expert, Steve Irwin. From an early age, Dr. Redmond was deemed the neighborhood's favorite and most trusted pet sitter, which strengthened his interest in animal compassion. This advocacy continued into his teenage years as he repaired a bird sanctuary, helping him become an Eagle Scout.
Dr. Redmond graduated from Brigham Young University—Idaho with a Bachelor's of Science degree in Organismic Biology. During his time as an undergrad, he shadowed local veterinarians and interned with Yellowstone Bear World. It was during his internship that he gained a unique experience working with black and grizzly bears, wolves, deer, elk, bison, and countless other species. Dr. Redmond went on to attend Washington State University, College of Veterinary Medicine (Go Cougs!). In 2020, he completed his Doctorate in Veterinary Medicine. His interests in animal medicine include anesthetic management, dentistry, and cardiology.
Dr. Redmond and his wife are proud parents of three children. He is also teaching his children to love and care for animals. In his free time, he likes to kick back and watch a good college football or basketball game or engage in a competitive card or board game with friends and family.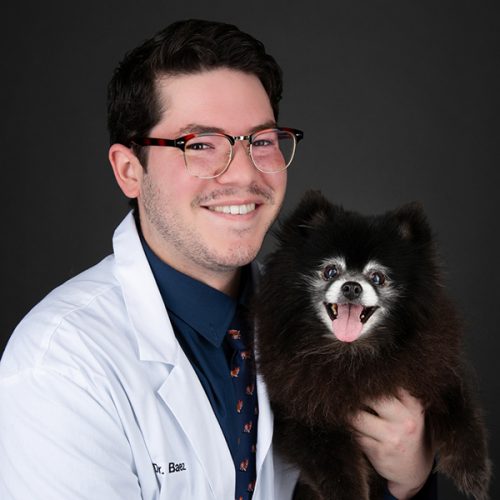 Veterinarian
Carlos Baez, D.V.M.
Dr. Carlos Baez is a graduate of Ross University and is from Caguas, Puerto Rico. Dr. Baez grew up in Puerto Rico and slowly realized he wanted to work in veterinary medicine. He said that taking his family's dogs to a local vet office was what first interested him in animal medicine.
"I began shadowing at that same clinic and I was there for a good three to four years before applying to vet school," Dr. Baez said. He said he first worked as a kennel assistant, making sure that the animals were being taken care of before he started working as a veterinary assistant. Dr. Baez said that gaining experience at the animal clinic helped cement his desire to become a veterinarian.
Dr. Baez attended the University of Puerto Rico in Cayey where he majored in Natural Sciences. He continued working at the animal clinic during the weekends while in school. After graduating, Dr. Baez applied to several veterinary medical schools in the United States mainland but was not accepted. Dr. Baez applied to Ross University a year later and was accepted.
During his time at Ross University, Dr. Baez did all kinds of volunteer work. He volunteered for a conservation program in Guatemala that helped rehab and reintegrate animals into their natural habitat, as well as a mongoose research project in St. Kitts and Nevis, where Ross University is located. Dr. Baez also volunteered for a veterinarian in South Africa that tracked and moved animals and visited various dairy farms checking cows and other animals.
Dr. Baez said he's most interested in surgery, dermatology, ophthalmology, cardiology, and internal medicine. He also said he's really interested in treating heartworms and heartworm medication.
Dr. Baez enjoys watching Netflix, traveling across the country, and hiking.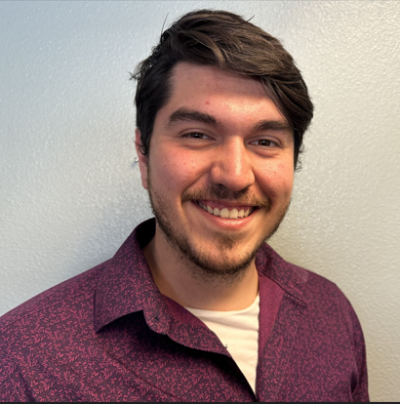 Veterinarian
Tyler Rodriquez, D.V.M.
Dr. Tyler Rodriquez, a native of Casa Grande, Arizona, developed a love for animals at a very young age. His journey into the world of animal care commenced on his grandparents' dairy farm, where he tended to calves and cows. At home, he was surrounded by two dogs and a cat, solidifying his passion for animal welfare and well-being.
The dream of becoming a veterinarian took root during his high school years when he enrolled in a hands-on technical program that offered students an opportunity to explore various career paths. Dr. Rodriquez chose to delve into the field of veterinary assisting. His experience working with animals, witnessing surgeries, and understanding the profound impact of helping animals deepened his commitment to pursuing a lifelong career as a veterinarian.
Subsequently, Dr. Rodriquez pursued his undergraduate education at the University of Arizona and later attended the University of Arizona College of Veterinary Medicine. During his third year of veterinary school, he participated in an externship program with our sister hospital, Lone Mountain Animal Hospital, where he gained valuable experience in working with exotic animals. He has now graduated and will join the veterinarian team at Aliante Animal Hospital.
Outside of his professional life, Dr. Rodriquez has a diverse range of interests and hobbies. He loves listening to music, particularly enjoying genres like EDM/Electronic, Alternative, and Pop. He likes painting, drawing, gardening, cooking, going to the gym and spending time with his Shepherd/Husky mix, Vision.
As he embarks on his journey in Las Vegas, Dr. Rodriquez looks forward to exploring the city and broadening his horizons by taking various classes to delve into new and exciting interests.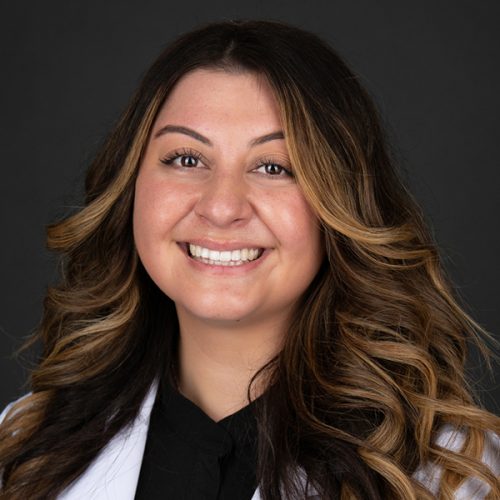 Veterinarian
Larissa Muñoz, D.V.M.
Dr. Larissa Muñoz is a Las Vegas native and a former extern of Craig Road Animal Hospital, and currently interning at Aliante Animal Hospital.
From a young age, Dr. Muñoz knew she wanted to work with animals. Her mother encouraged her to try different career paths, including architecture, golfing, and dancing. But Dr. Muñoz said she always found her way back to veterinary medicine.
"I've always been an animal lover since I was little and have always been drawn towards studying veterinary medicine in my later years of schooling," Dr. Muñoz said.
She received her Doctorate of Veterinary Medicine from St. Matthew's University in the Cayman Islands. She completed her clinical year at Washington State University in Pullman, Washington. Dr. Muñoz received her Bachelor's in Veterinary Science from the University of Nevada, Reno, and obtained her Master's degree in Health Care Concentration during her first three years of vet school.
During her studies in Reno and the Grand Cayman Islands, Dr. Muñoz volunteered at local animal shelters. She also volunteered for local shelters in Las Vegas. Dr. Muñoz trained puppies for the Guide Dogs for the Blind Program, which she said was her favorite experience during her undergrad.
Dr. Muñoz said she's most interested in internal medicine cases and loves performing soft tissue surgery. Outside of work, Dr. Muñoz enjoys playing golf or staying home and playing video games. But most importantly, she loves spending time with her Golden Retriever named Oliver.