Dr. Krystal Chinchilla explains the causes and warning signs of heatstroke in pets, and how pet owners can help keep their pets cool during the summer.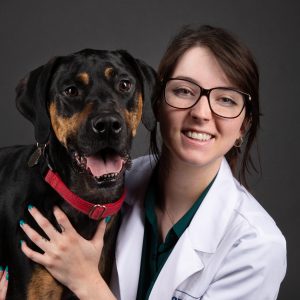 When it comes to keeping cool, dogs are notoriously bad at regulating their body heat. With the past couple of heatwaves the Las Vegas area has been experiencing, many pets are in danger of developing heatstroke. This condition can be fatal, but it is 100% preventable. We want your pets to be safe this summer while still having fun with the family.
Signs & Causes of Heatstroke
Aside from being left in a hot car, being left outside in the backyard too long or going on long walks in the middle of the day are some of the most common ways a pet can develop heatstroke. Even light exercise in the heat can lead to signs of heatstroke. Dogs with thick coats or pets that are overweight or have known medical conditions like heart disease can develop heatstroke quickly.
Due to their anatomy, brachycephalic breeds like Pugs, Shih Tzus, French and English bulldogs, and Japanese Chins have a harder time getting enough oxygen, which is essential in trying to cool down. When they are overworked, the tissues in their throat can also swell, making breathing even harder. These breeds also have shorter airways, which can make even normal breathing difficult.
Symptoms of heatstroke depend on the severity of the case. The symptoms can range anywhere from heavy breathing or panting, to having red gums, salivating, acting strange or stumbling, and collapsing.
Beating the Heat
If your pet is experiencing heatstroke, you need to contact a veterinarian immediately. Attempt to cool the pet, but cooling too quickly can also have risks. That is why it is best to take your animal straight to a veterinarian for evaluation and treatment. On the way to the veterinarian, encourage (but don't force) the dog to drink water and try cooling passively with air conditioning/fans and a cool (not cold) towel.
If left untreated, heatstroke can cause organ damage, swelling of essential organs like the brain, and can create blood clots in the worst-case scenarios. Pets that develop these conditions can be more susceptible to heatstroke in the future as well.
Some of the best ways to prevent heatstroke in pets is to walk during the coolest parts of the day, or for short periods of time. Make sure your pet is well hydrated during the day and keep your pet at home if you need to run errands. Be cognizant of early signs of overheating, like increased panting and drooling.
Avoid walking your pet during the hottest part of the day and of course – do not leave your pet in a hot car, even with the windows cracked. Do not leave your pet outside unattended for any amount of time, as heatstroke can happen very quickly.
Click on the image below for more info!